Regular price
Sale price
$19.49 USD
Unit price
per
Sale
Sold out
SKU: 6000-stickerless
Description

For those busy days on the go or slow afternoons at the office. To toss in lunch boxes for kids snacks, or for your next outdoor adventure. Make Nature's Garden Trail Mix Snack Packs your go-to for savvy snacking on the move.

This bag of blissful bites features 24 individual 1.2oz (34g) packets of our trail mixes including our beloved Omega-3 Deluxe Mix and Cranberry Health Mix. These convenient snack packs are carefully curated blends of the finest ingredients, all natural and straight from Mother Earth, to keep your energy high and hunger satisfied.

Each packet contains mixed nuts, fruits, and seeds, such as almonds, walnuts, pistachios, pecans, pumpkin seeds, and cranberries. Cranberries pack a powerful punch against disease with their antioxidant benefits, while providing just the right amount of sweetness. The nuts and seeds bring the crunch, working to help maintain a healthy heart with their bountiful omega-3 fatty acids.

High in fiber, protein, and a rich list of vitamins and minerals, our Trail Mix Snack Packs work to enrich the body and mind. Chow down on these blissful bites and rejoice for the savvy snacker inside you!



SAVVY SNACKS FOR ALL! Featured inside this multi-pack are our fan-favorite Omega-3 Deluxe Mix and Cranberry Health Mix. Both of these

healthy snacks

are proudly vegan, dairy-free, and gluten-free. So regardless of your dietary requirements, you can enjoy what's inside our Trail Mix Snack Packs.

TAKE ME ANYWHERE. The convenient size makes these

individual packs

perfect for savvy snackers on the move. Whether you're adventuring in the great outdoors or at the office, or simply filling your child's lunch box, these snacks are as functional as they are delicious.





TOP SHELF INGREDIENTS. All Nature's Garden products, including our

Trail Mix Snack Packs

are made with all natural ingredients. That means we take the finest quality

mixed nuts

, berries, and fruit mother nature has to offer and create snacks that go beyond simply satisfying hunger. So rest assured, when you buy Nature's Garden, you're buying the absolute best.

FREE FROM NASTIES. We've ditched the bad stuff and are committed to bringing you that good good. Each mix inside our

nut snack packs

are free from preservatives, trans fats, GMOs, artificial ingredients, artificial flavors, cholesterol, and sodium. Whew! Take a big exhale and chow down without second guessing.

WALLET-FRIENDLY. How do you make a totally delicious, insanely nutritious, and crazy convenient snack even better? Buy in bulk and make it budget-friendly! Our

Trail Mix Snack Packs

come in a bundle of 24

individual packets

featuring two of our best-selling

trail mixes

. The perfect way to indulge in a variety of yummy, for less.

KICKSTART YOUR HEART. Each of the trail mixes inside our Healthy

Trail Mix Snack Packs

proudly wear the healthy heart banner. This means that you can munch guilt-free, knowing you're treating your heart (and soul) to a snack with a greater purpose.




Ingredients:

Cranberry Health Mix—Cranberries, Walnuts, Almonds, Peanuts, Black Raisins, Golden Raisins, Pepitas, Sunflower Seeds, Sugar, Peanut Oil, Sunflower Oil


Omega-3 Deluxe Mix—Walnuts, Cranberries, Almonds, Pepitas, Pecans, Sugar

Allergy Information: Packed and processed in a facility that packages peanuts, tree nuts, milk, soy, wheat, and egg products. May contain pits, shell pieces or other naturally occurring objects. Statements regarding dietary supplements have not been evaluated by the FDA and are not intended to diagnose, treat, cure, or prevent any disease or health condition.
More About Nature's Garden Trail Mix Snack Packs

Trail mix is an excellent choice when you feel hungry and want to stick with a healthy diet. When choosing a trail mix, make sure the mix includes whole-food ingredients to support overall wellness. Traditional trail mixes often have candy and other things mixed in that might disrupt your diet goals.

In these Nature's Garden Trail Mix Snack Packs, you can choose from two delicious flavors: Cranberry Health Mix and the Omega-3 Deluxe Mix. Both trail mix varieties include dried fruit, seeds, and nuts that are perfect for several diets and lifestyles: gluten-free, keto, low carb, and vegan.

Dairy-Free Trail Mix for Kids

Not only do adults enjoy this vegan trail mix, but it's also a great snack option for kids as well. Keeping the snack packs in the house is a great way to keep your family fueled through daily activities and fun adventures together.

Trail Mix Snacks for Keto Diet

Another benefit of these trail mix snacks is that they are filled with low-carb ingredients. The keto diet is a popular solution for people looking to lose weight or want to maintain a healthy lifestyle. Nuts and seeds are naturally low-carb and high in protein, fat, fiber, and nutrition.

Health Benefits of Trail Mix

The variety of ingredients in a healthy trail mix means that you are enjoying nutrient-dense benefits in every bite. These plant-based ingredients contain essential vitamins and minerals. Additionally, the healthy fats in nuts may contribute to a healthier heart.

When you are eating seeds, dried fruit, and nuts, it feels good knowing that you are providing disease-protecting antioxidants for your body. These antioxidants work to minimize oxidative damage by counteracting the effects of free radicals.

Variety of Healthy Trail Mixes for the Family

How many ways can you enjoy these healthy trail mixes each week? At Nature's Garden, we keep your family fueled at home, work, and school. So whether you need a snack for the daily routine or are preparing for a fun family adventure, trail mix snack packs are a convenient way to maintain good health every day.

y
Payment & Security
Your payment information is processed securely. We do not store credit card details nor have access to your credit card information.
View full details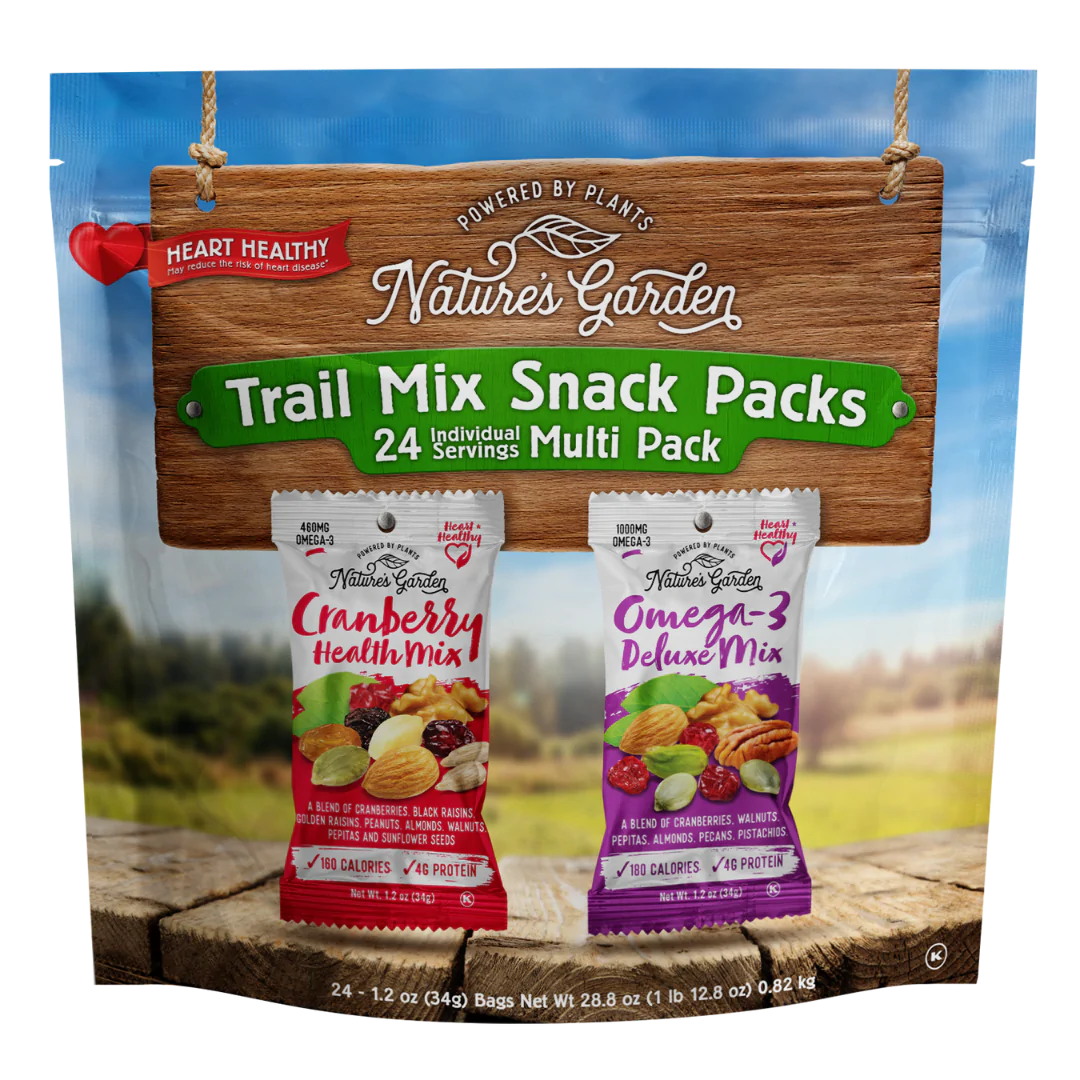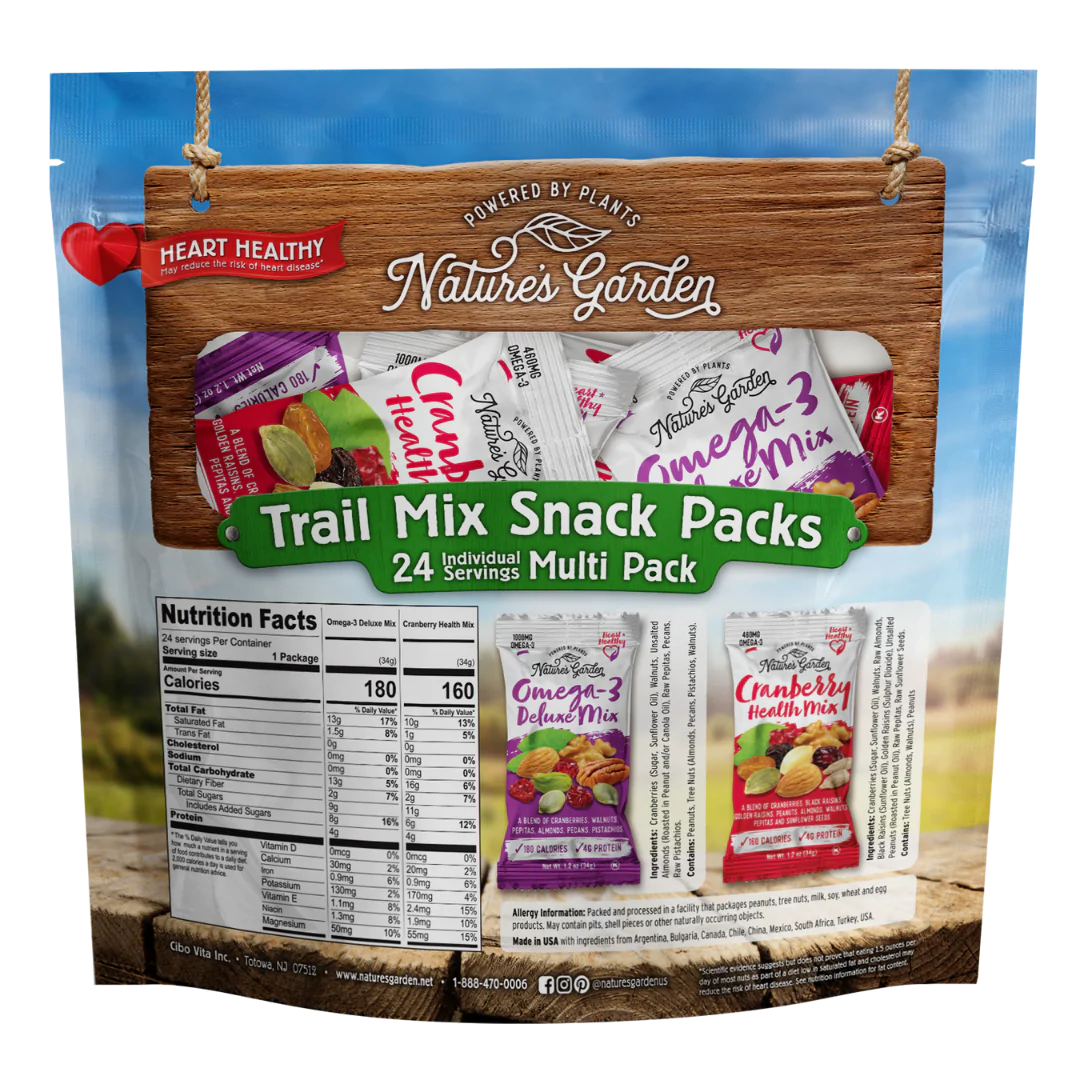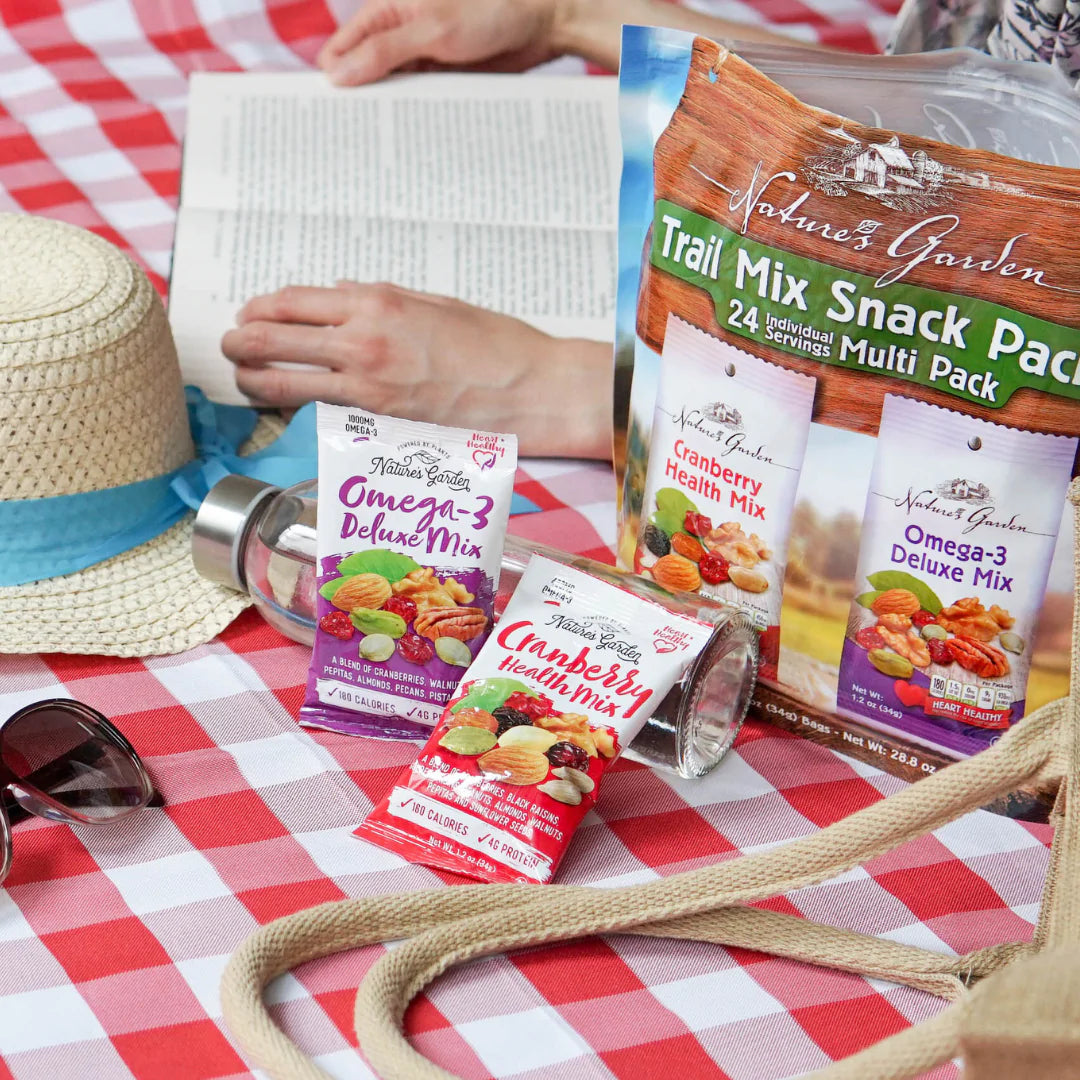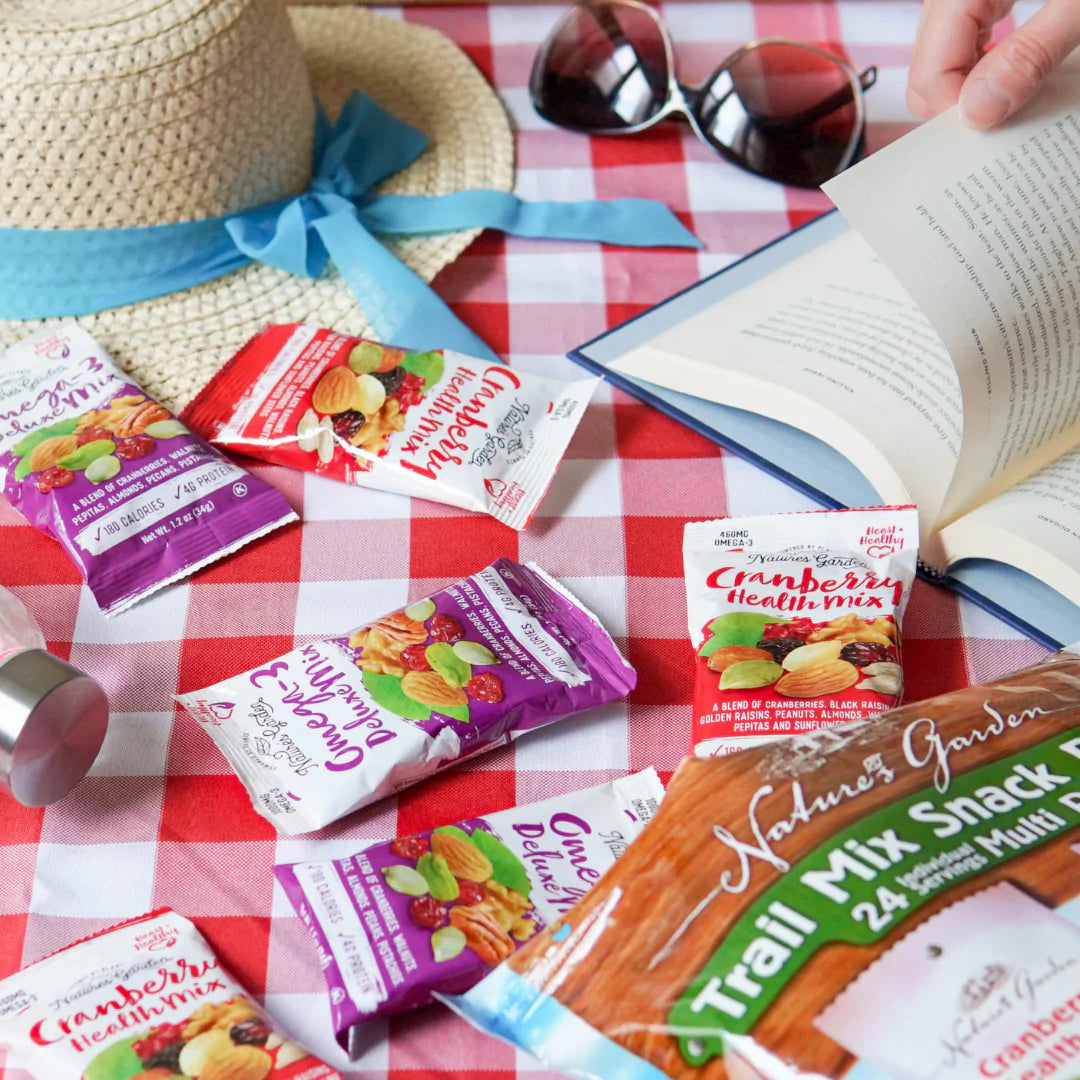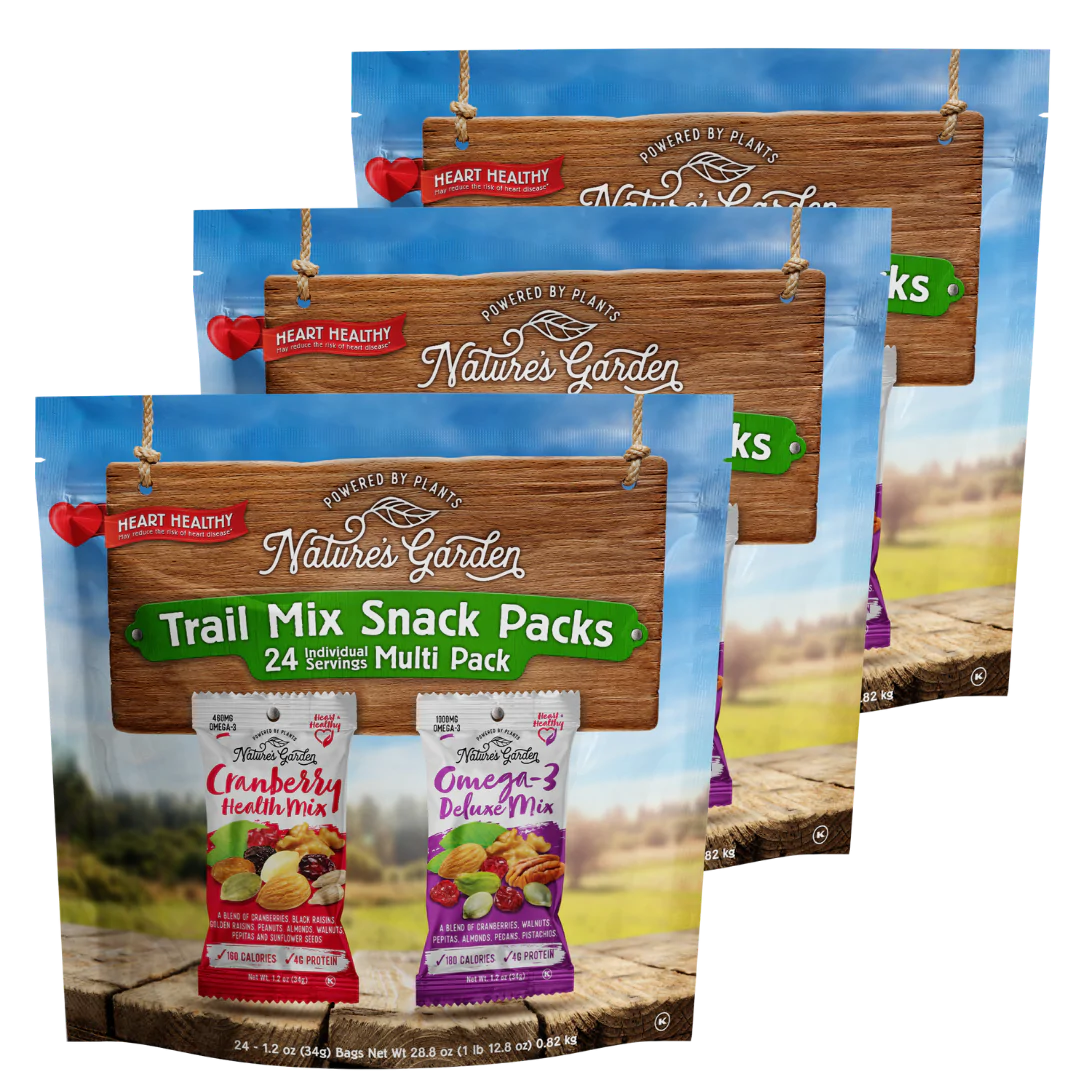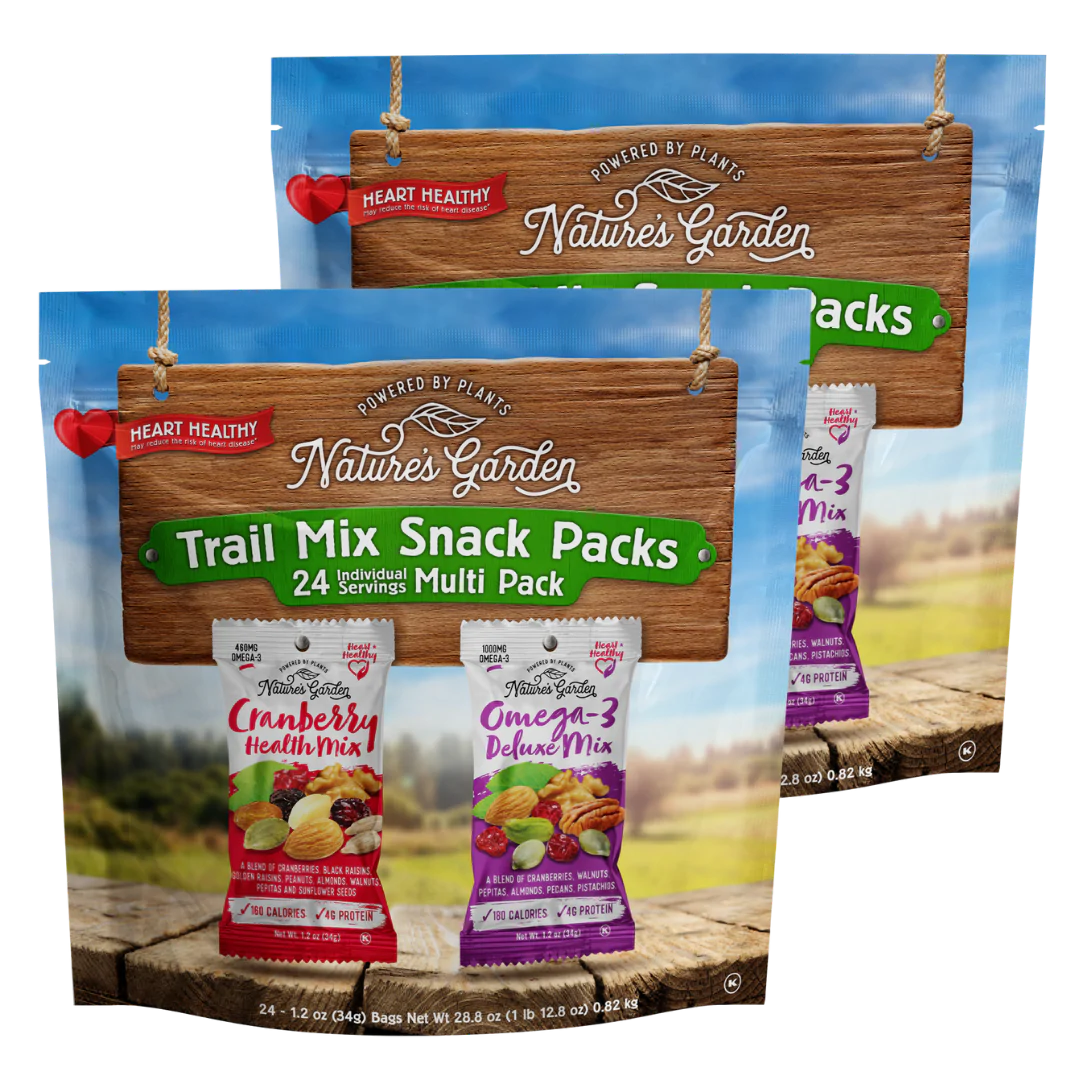 Choosing a selection results in a full page refresh.