Regular price
Sale price
$39.99 USD
Unit price
per
Sale
Sold out
SKU: 8766
Description

Drool-worthy crunch that packs a keto punch! Whew! That's a mouthful in itself… treat yourself to another mouthful of goodness with our beloved Keto Snack Mix.

At Nature's Garden, we're firm believers that everybody should be able to chow down on savvy snacks, no matter what dietary requirements you might have. That's exactly why we carefully curated our Keto Snack Mix to bring a flavor explosion that's as nutritious as it is delicious.

Nature's Garden Keto Snack Mix is a crunchy and savory keto snack with bliss in every bite. This mouthwatering combination is a favorite Nature's Garden keto snack, loaded with nuts, seeds, and crunchy cheese balls and packed with vitamins, nutrients, and minerals to keep you moving and grooving. And with a 24 ounce bag (680g), there's plenty of keto goodness to go around!

Almonds, pecans, and macadamias are heart-healthy nuts that are packed with fiber and protein to improve digestive health and keep hunger cravings at bay. Pepitas add an antioxidant burst to the mix, helping protect your body from disease.

Combine that with our probiotic cheese balls to promote a healthy balance of gut bacteria, and you've got one truly functional, purposeful snack! This low-carb, low-sugar snack boosts your energy and gives you the power to conquer the day.

IRRESISTIBLY KETO, ANYWHERE. Our fan-favorite

Nature's Garden keto trail mix

, the Keto Snack Mix, satisfies cravings and curbs hunger, and is the perfect treat for all savvy snackers, whether you're committed to a ketogenic diet or simply looking for a nutrient-rich blissful bite. Whether you're adventuring outdoors, or at the office, our Keto Snack Mix is as functional as it is delicious.

FREE FROM NASTIES. We've ditched the bad stuff and are committed to bringing you only that good good. Each mix inside our

Keto Snack Mix

is free from preservatives, trans fats, GMOs, artificial ingredients, artificial flavors, cholesterol, and sodium. Whew! Take a big exhale and chow down without second guessing.

PERFECTLY PROBIOTIC. Probiotics play a vital role in promoting a healthy balance of gut health, enhancing weight loss and boosting your immune system. The addition of our

keto cheese balls

boast probiotic benefits to keep your belly full and gut bacteria in check.





TOP SHELF INGREDIENTS. All Nature's Garden products, including our Keto Snack Mix, are made with all natural ingredients of the highest quality. So rest assured, when you buy Nature's Garden, you're buying the absolute best.

FOR YOU + THE PLANET. Sourcing all natural ingredients means supporting not only your body, but the greater good of Mother Earth. On that note, Nature's Garden suppliers support sustainable farming practices to help you in feeling good by doing good.

Ingredients: Almonds, Pepitas, Dried Cheddar Cheese, Pecans, Macadamia Nuts, Sunflower Oil, Bifidobacterium Lactis B420

Allergy Information: Packed and processed in a facility that packages peanuts, tree nuts, milk, soy, wheat, and egg products. May contain pits, shell pieces or other naturally occurring objects. Statements regarding dietary supplements have not been evaluated by the FDA and are not intended to diagnose, treat, cure, or prevent any disease or health condition.
More About Keto Snack Mix

Snacking on a keto diet doesn't have to be bland and boring. The Nature's Garden Keto Snack Mix includes the perfect balance of crunchy and savory flavors. Combine healthy nuts and seeds with probiotic cheese balls, and you have an outstanding balance of high-fiber, health-boosting snacks. This mix includes almonds, pepitas, pecans, and macadamias.

Why a Keto Snack Mix?

What are the benefits of choosing this keto snack mix instead of traditional party mixes? First, the nuts and seeds keep you full longer because they are packed with fiber and protein. Second, when these ingredients are part of your snack or meal, you will feel satiated and full for a more extended period of time.

Plus, these healthy ingredients provide you with vitamins, minerals, and superb nutrition to support overall health. Enjoy a crunchy treat that boosts your energy and keeps your carb intake low.

What are Good Keto Snacks?

Are you on a keto diet and need more snack ideas? In addition to proactive meal planning, make sure that you have delicious snack options to enjoy between meals. These snacks are not only important at home, but they are essential when you are on the go and need a snack away from home.

The most convenient keto snacks come pre-packaged so that you can throw them in a bag or purse. Or, keep a few snack packs on hand at the office to help you get through the mid-afternoon slump.

Snacking on Low Carb Ingredients

For some people, snacking is the hardest part of staying on a healthy diet. You might be eating low-carb meals but find it hard to keep on track when you need a mid-afternoon snack. These low-carb keto snacks help you address hunger without spiking your blood sugar. Plus, you'll feel satisfied because of the delicious taste you can enjoy at any time.

At Nature's Garden, we make it easy for you to maintain your keto lifestyle. Whether you are looking for salad toppers or keto snack mixes, we are here to help. Check out the various keto products that you can incorporate into your meal planning.

y
Payment & Security
Your payment information is processed securely. We do not store credit card details nor have access to your credit card information.
View full details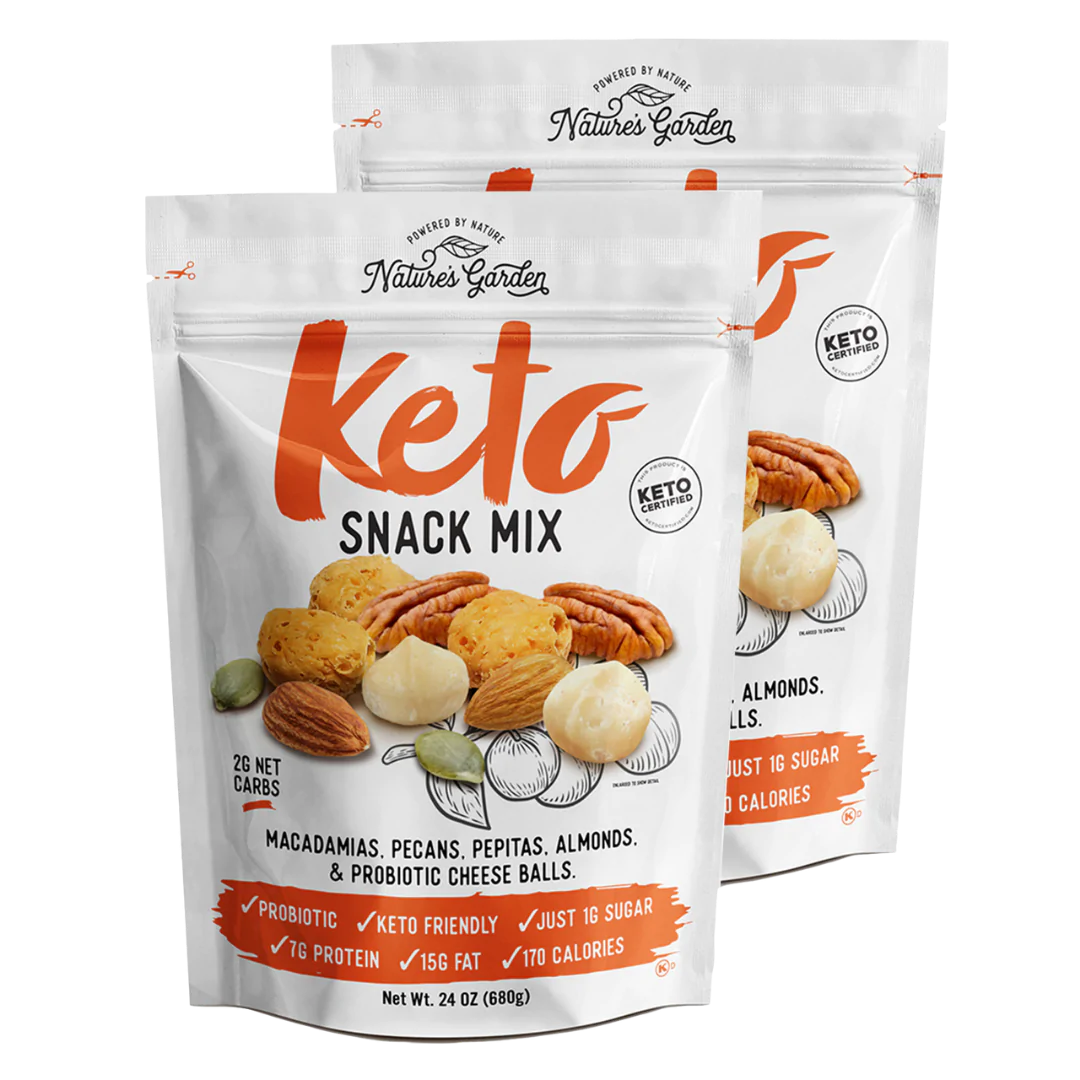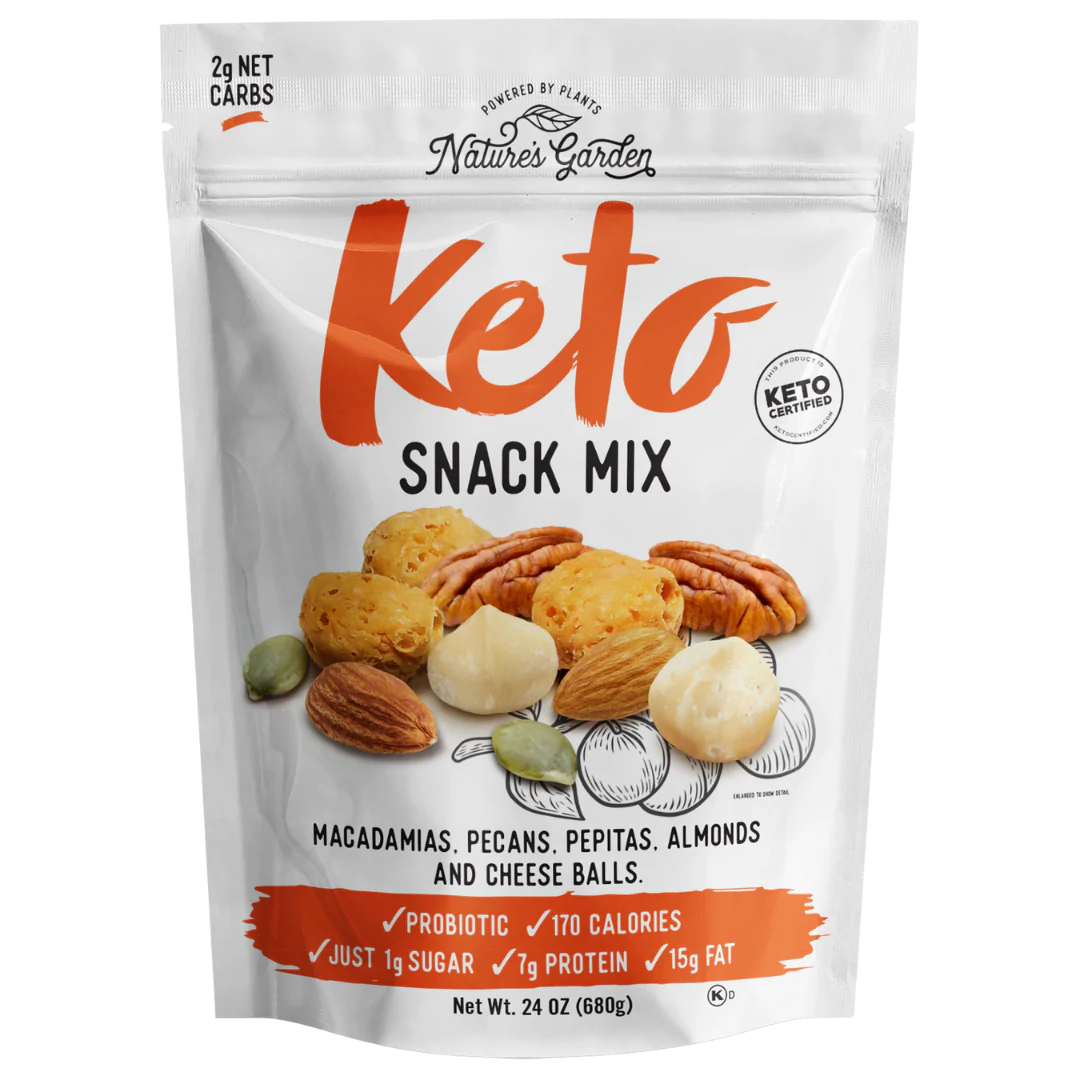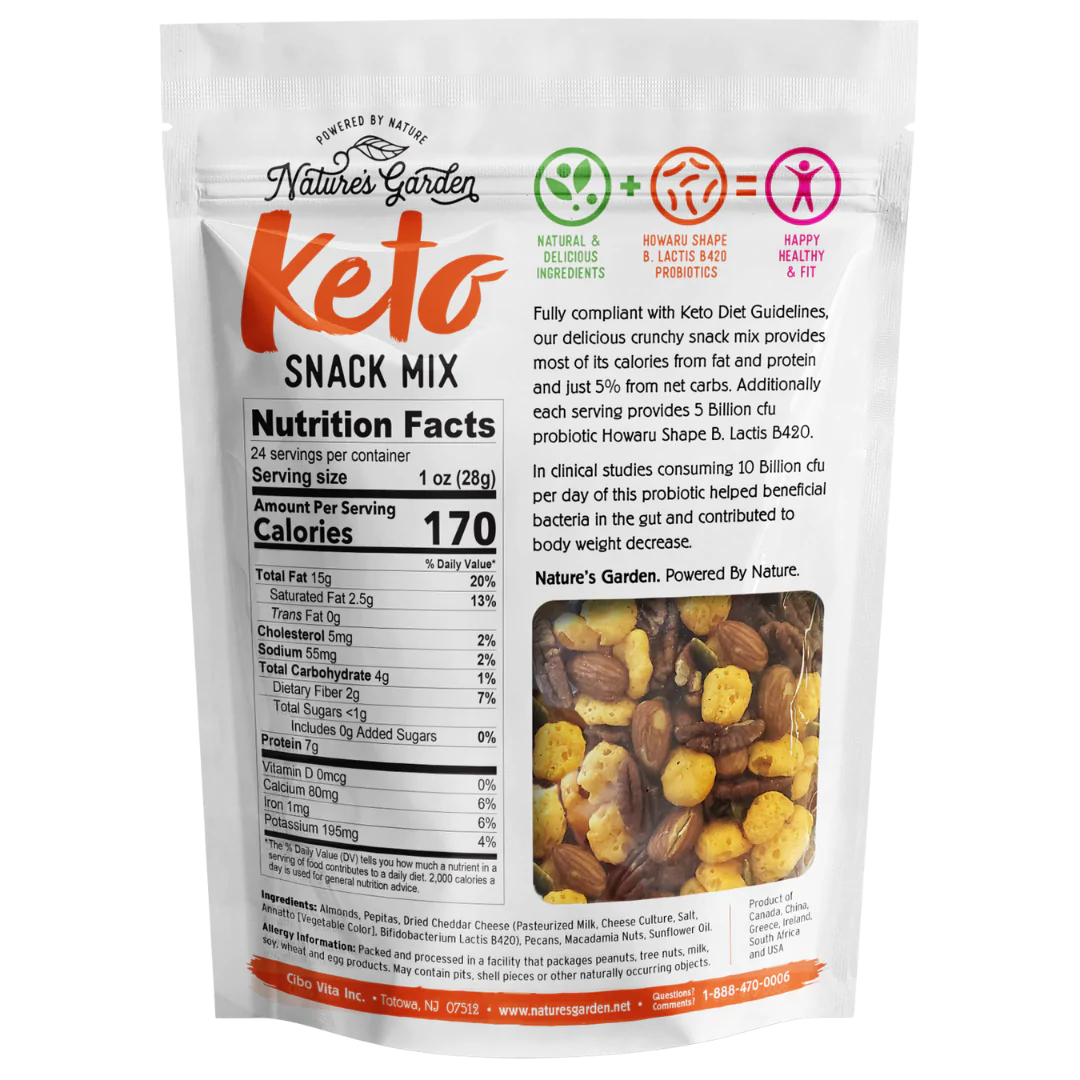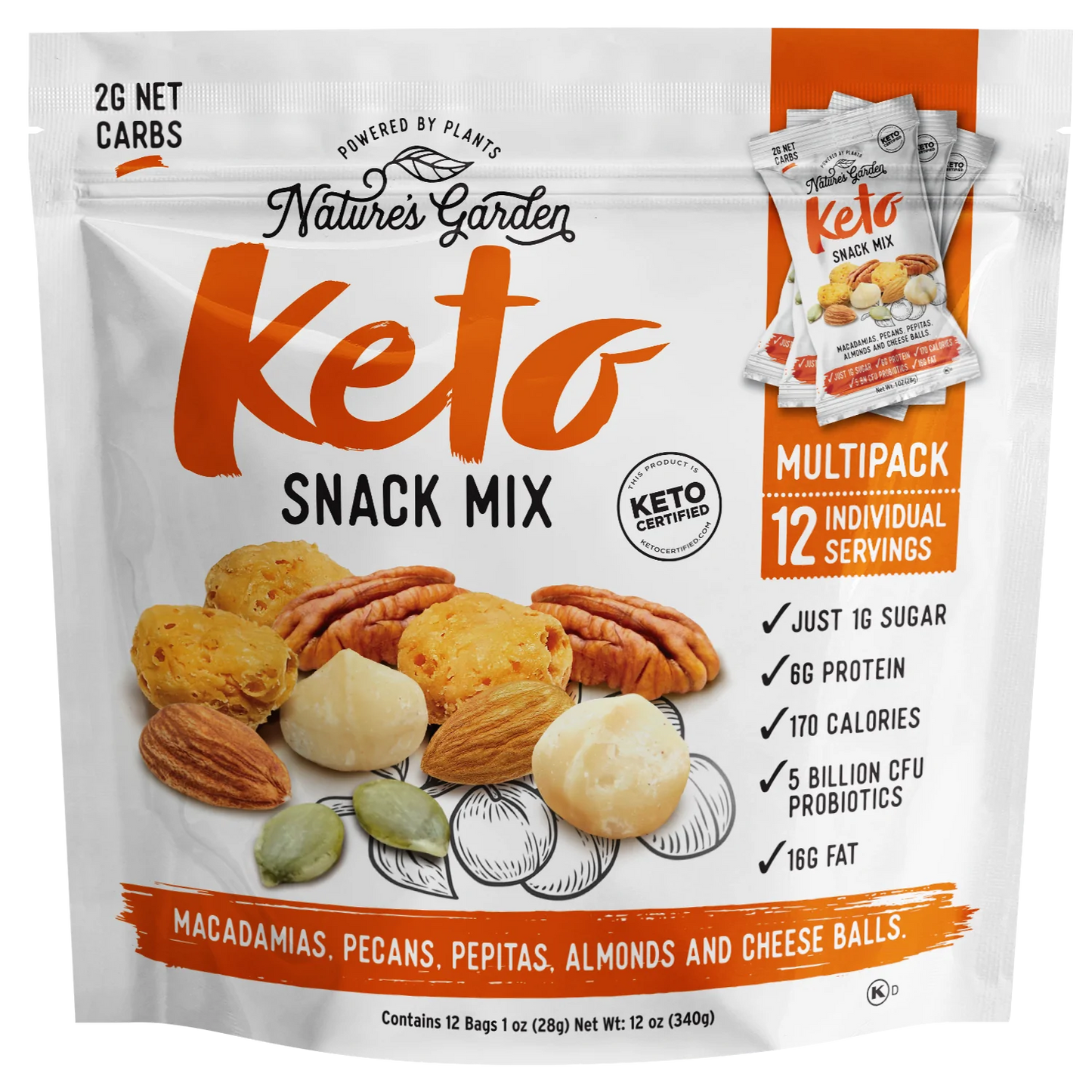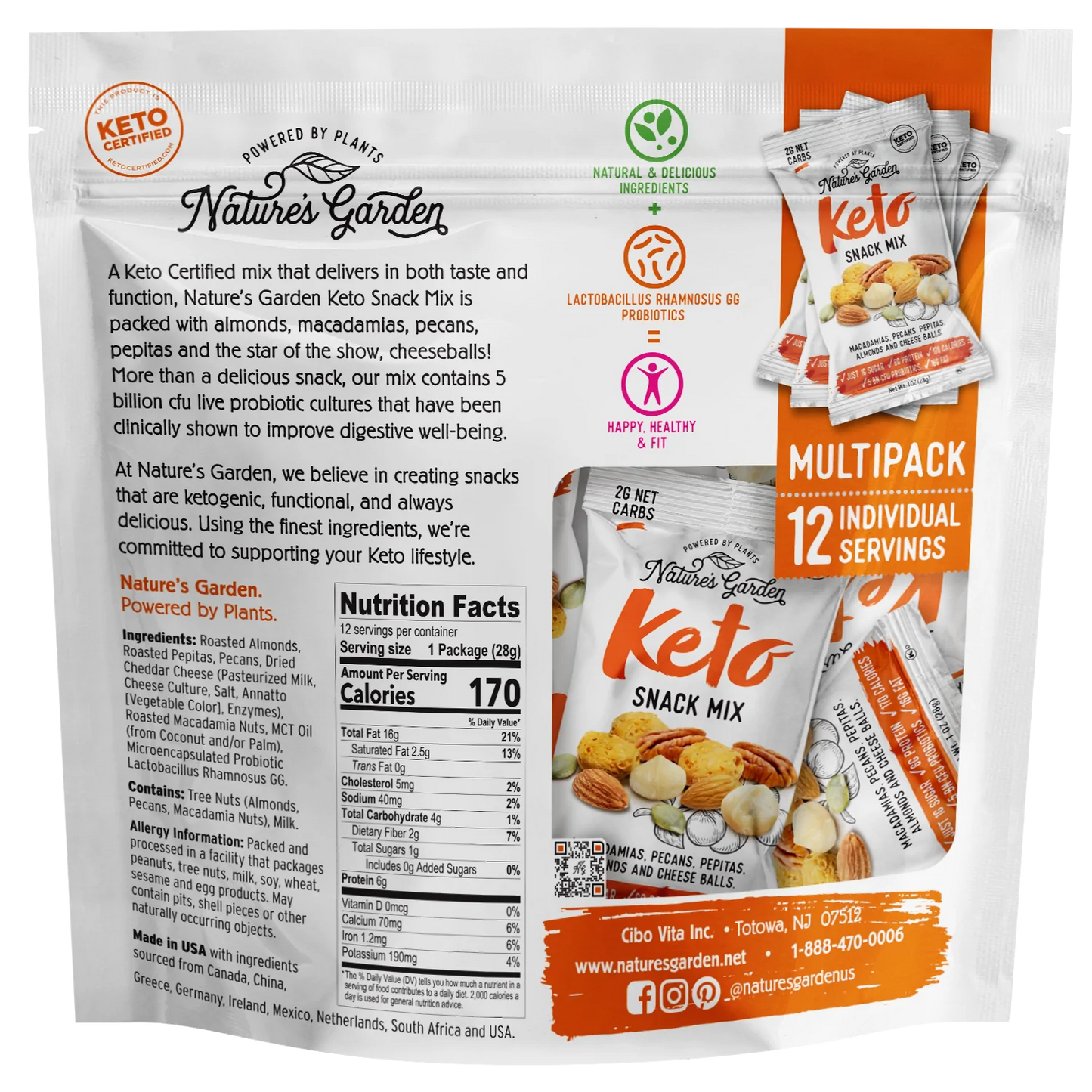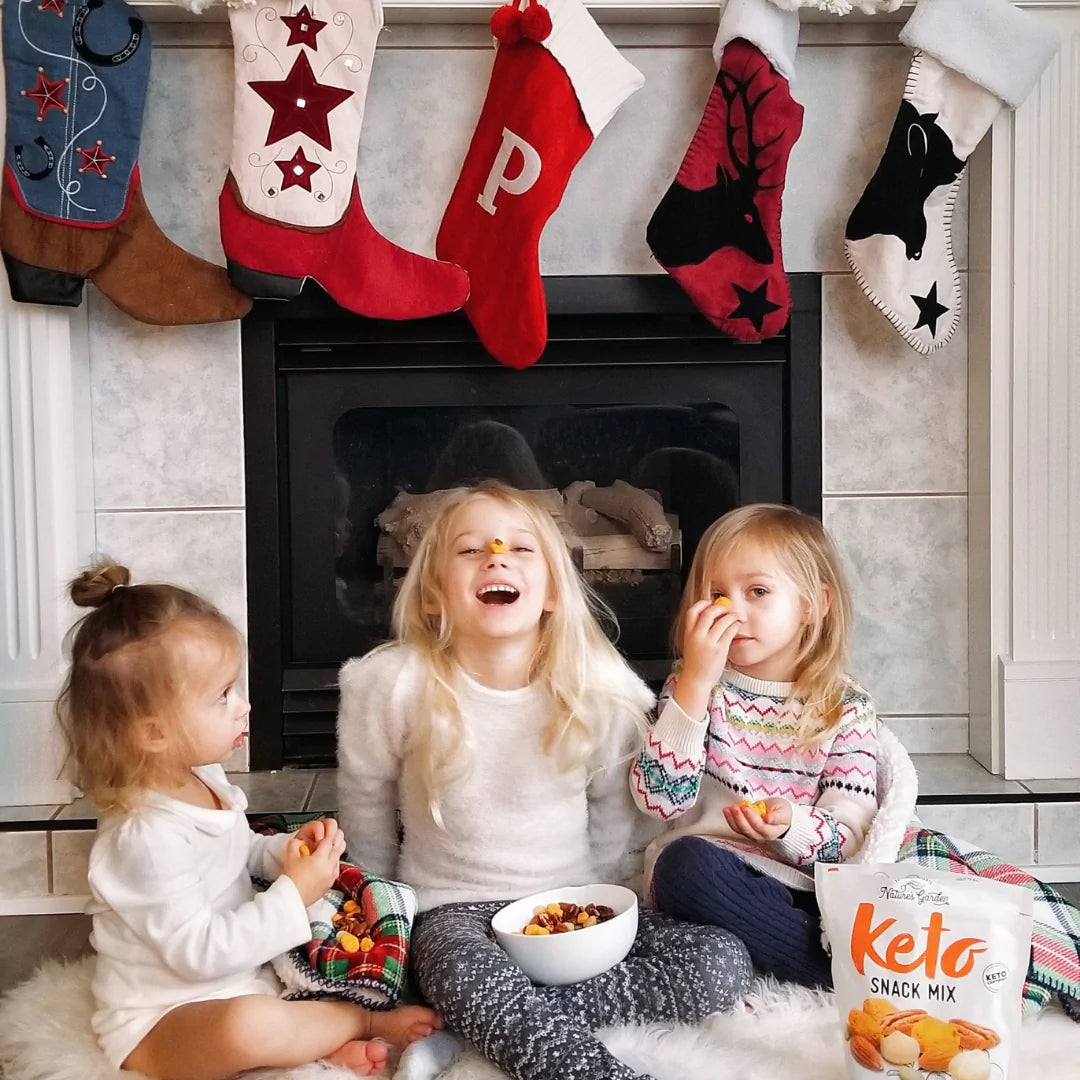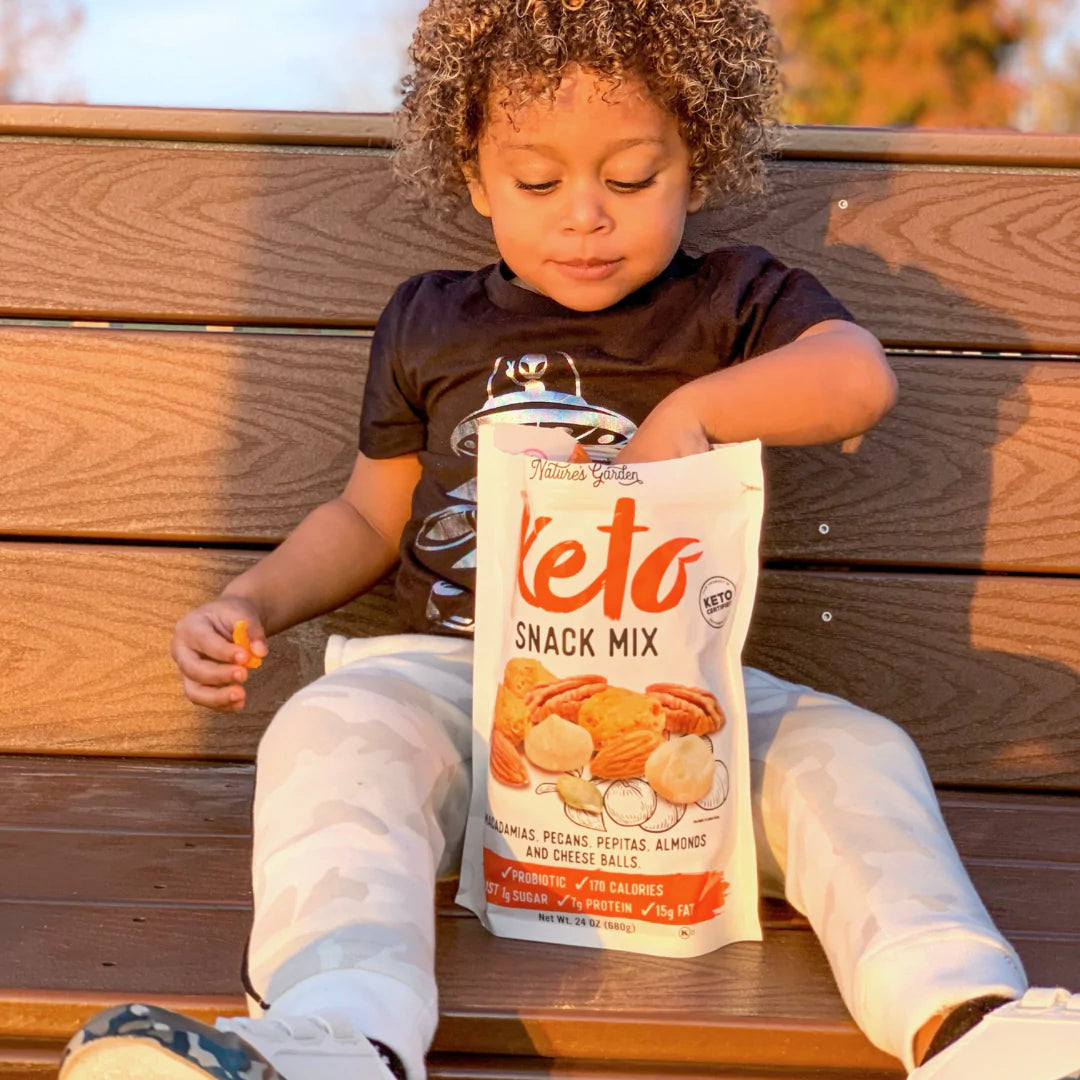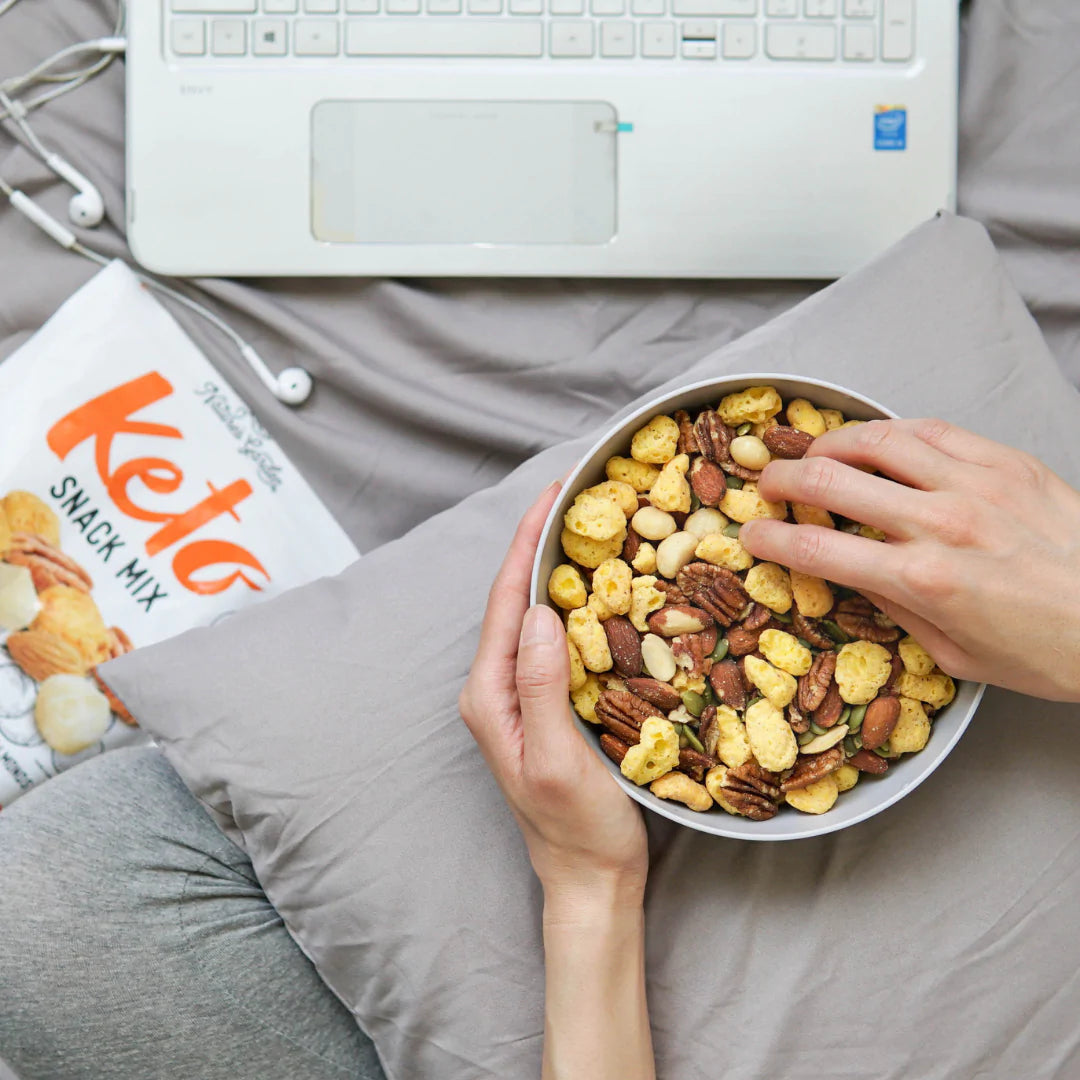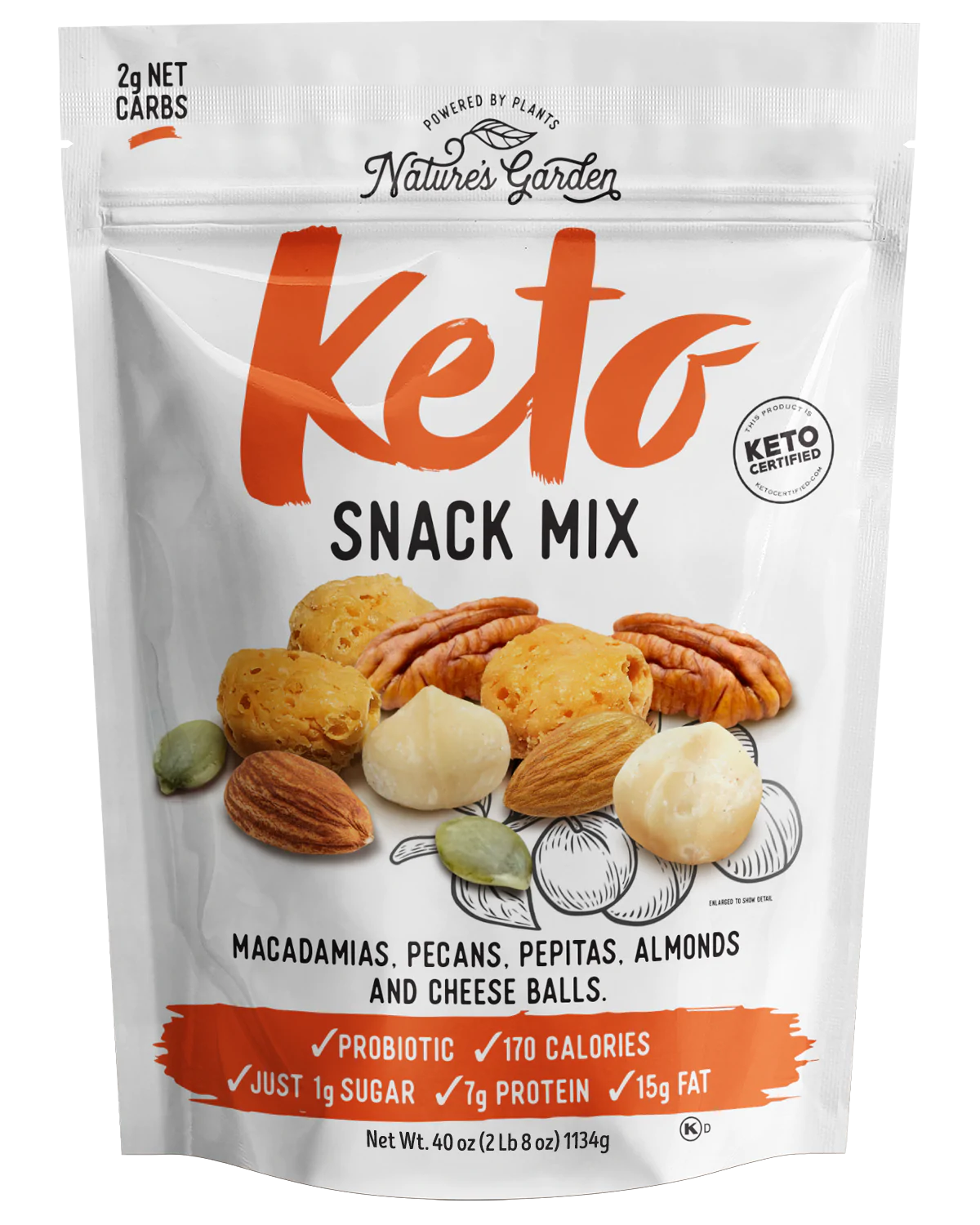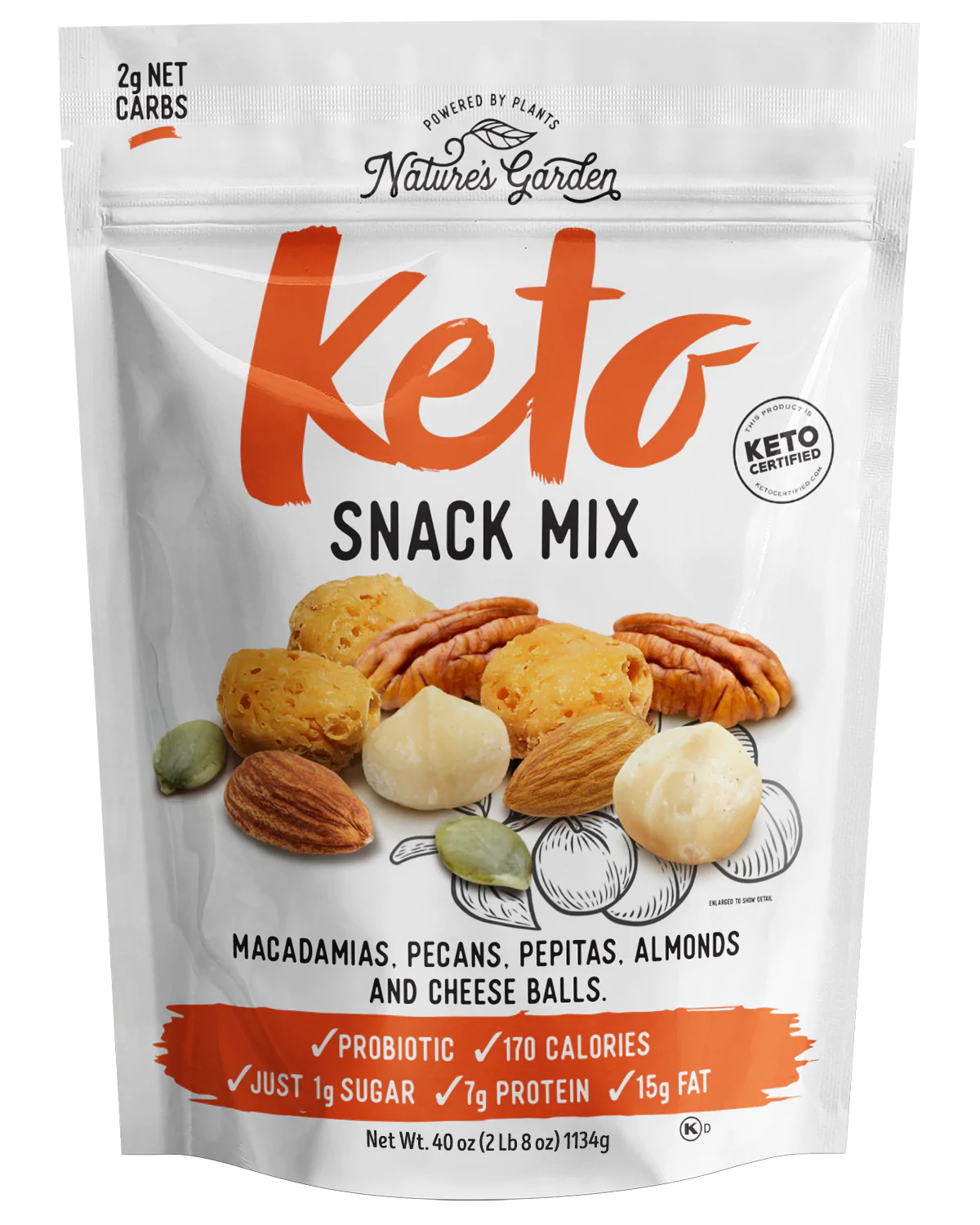 Choosing a selection results in a full page refresh.